Companion Walks
Resident-led walks through shared urban space to strengthen social ties through the exchange of personal stories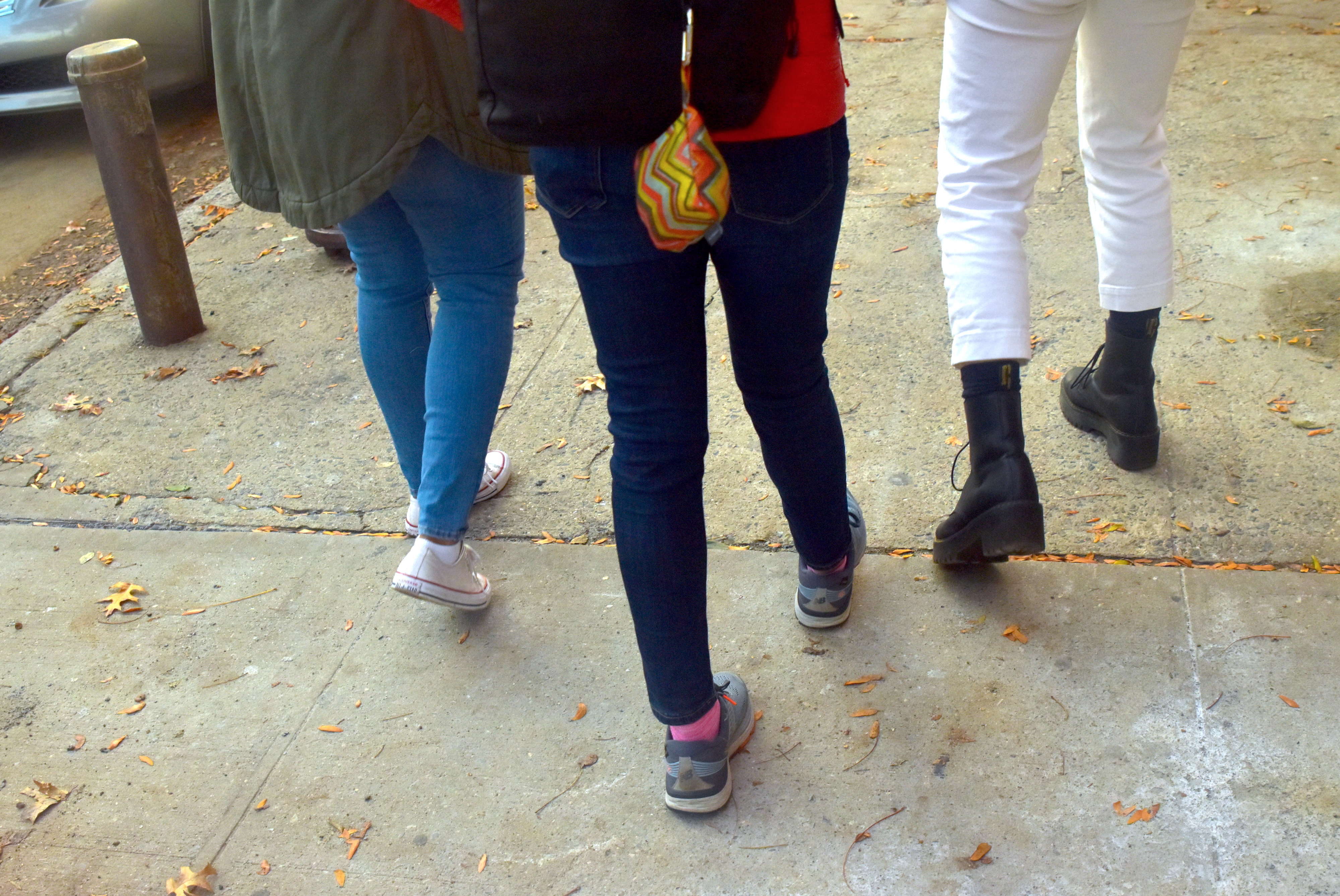 Companion Walks is an experience designed for people who live in the same neighborhood, but do not typically interact due to geographic, economic, or social divisions in the urban setting.

During the experience, participants are paired up to go on a walk together through their neighborhood. Though the starting point of the walk is pre-determined, each pair can choose their own route and show their companion locations of personal or local significance, guided by conversational prompts.







Stories from walk with Nurys Pimentel,
Library Circulation Specialist



---
A Relational Storytelling Process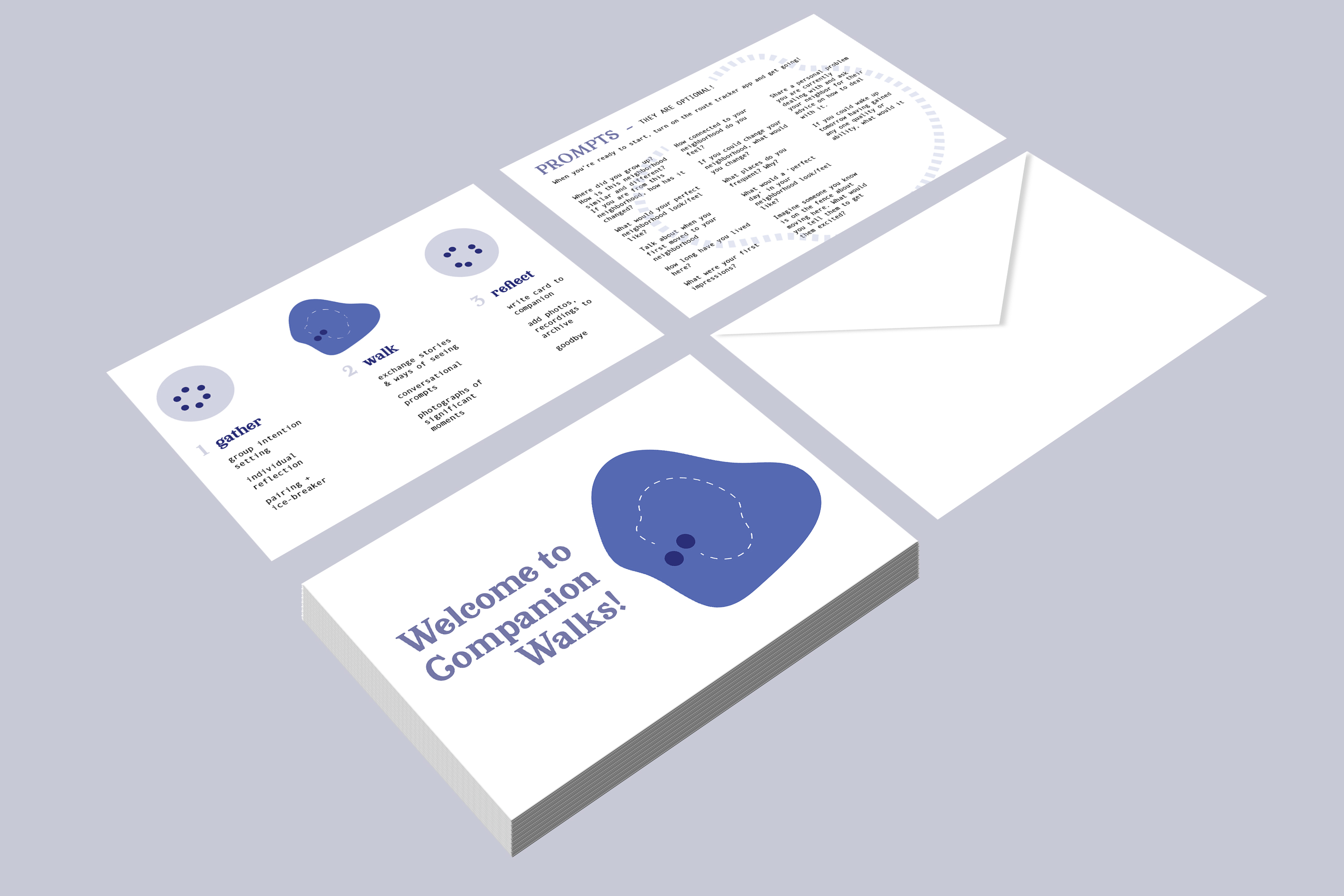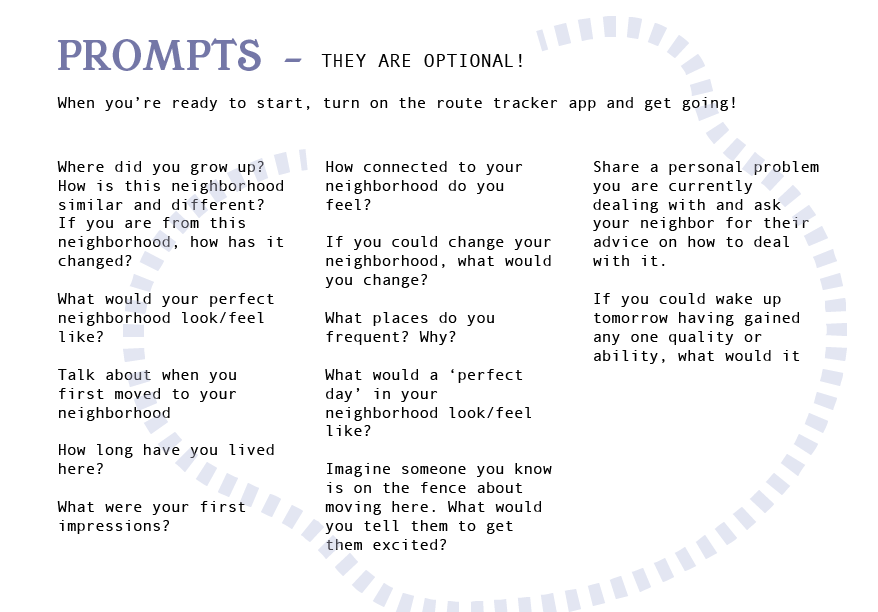 Relationships and personal storytelling are at the heart of the Companion Walks process. Moments before and after the walk are designed to acclimate and support participants as "narrators" of their own lived experiences in their neighborhood.

The walk itself is a two-way exchange, meaning each participant has the chance to share their stories and lead their companion through their distinct way of seeing the neighborhood. During the walk, everyday spaces and landmarks become important markers of memory and story, connecting the participants to each other as well as the neighborhood.

---
Several forms of research informed the design of the experience.
Secondary Research into Urban Histories, Community Organizations, and Infrastructure in Red Hook

Conversations in the Field

Ecosystem Mapping

Semi-Structured Interviews

Design of Participatory Mapping Activity

Two iterations of the walk process
The research surfaced different divisions within Red Hook – tensions between youth and police, differing change philosophies of community organizations, intergenerational rifts, and an "economic ocean" separating Red Hook House residents from gentrifiers.
---
A Digital Storytelling Archive
To increase accesibility and allow others to experience a resident-led walk later on, my collaborators and I had proposed the creation of a public digital archive, to which documentation from the walks could be added – photos, reflections, and audio snippets, with the consent of the participants.

Due to the COVID-19 pandemic, we were not able to do further iterations of Companion Walks in Spring 2020 as intended, but I independently prototyped an interface for the proposed archive for Red Hook, Brooklyn - The Red Hook Living Archive.

Historical information, interviews, photographs, and audio gathered from research in Red Hook were used to create this interactive website prototype, which allows viewers to learn about the neighborhood's history and current sociopolitical concerns, from the perspective of three residents.
---
︎︎︎ Return to Project Overview